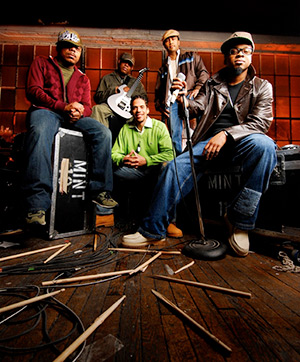 BIO
Modern, infectious soul grooves fringed with Latin and jazz, buoyed by fiery dashes of rock and funk; when musicians create—as well as sustain—that level of quality for nearly two decades, they are more than an average group or band….they become, in fact, Mint Condition.
After five successful studio albums, over a dozen hit singles, multiple world tours and collaborations with some of the biggest stars in the genre (Alicia Keys, Jill Scott, Janet Jackson, Charlie Wilson of the Gap Band and Maurice White of Earth, Wind &Fire, to name a few), Mint Condition is a rarity in today's R&B, their generation's lone example of 'old school' bands that now serve as templates for many of their peers. And it's their classic, yet contemporary approach, combined with Stokley's agile and emotive tenor, which fuels their sixth studio CD and the second release from their independent label (Cagedbird Entertainment), eLife. The recurring theme: filtering the challenges of family and relationships through the murky cosmos of the internet. According to their bass guitarist, Rick Kinchen, those are issues that nearly everyone's encountered before.
"People text-message, use MySpace and e-mail, so it's about having relationships in the context of our world today. Everybody's said 'in a minute' to their kid, stayed on the computer and watched it turn into three and four hours later. "
In fact, the perpetual balancing act is what inspired eLife's opening track, "Baby Boy Baby Girl" (featuring Anthony Hamilton). Although the celebratory song hits home for the musician, Rick says that its message is a universal one. "You'll go through all kinds of relationships, but your kids are the only ones who will be there in the end. I didn't want the song to be only about me though, so I included other situations that I've watched my friends go through as well."
Other songs expressing such struggles include the wistfully edgy "Wish I Could Love You," the angst-filled "Somethin',", featuring Little Brother's Phonte, and the CD's most intriguing cut, "Why Do We Try," showcased by a haunting backdrop of sparse beats and eerie scratches by none other than A Tribe Called Quest's "sound provider," Ali Shaheed Muhammad. Its sound is quite a departure for the band and illustrates their willingness to stretch their artistic boundaries.
"It's very straightforward, with a futuristic Euro sound," says lead vocalist Stokley Williams. "You will or won't embrace the song, depending on your mindset."
And it's that sort of ingenuity keeping MC alive and thriving in the music biz. Every member of the band, including keyboardists Lawrence El and Keri Lewis, guitarist O'Dell and keyboardist/saxophonist Jeffrey, came of age in the Twin Cities (St. Paul &Minneapolis) and were inspired by Prince's electrifying hybrid of funk, soul and pop (now known as "The Minneapolis Sound,"). The young men knew of one another peripherally, but the collaborations didn't fall into place until they united under Central High School's performing arts program; O'Dell and Stokley, who had a steel drum class together, absorbed the musicians after practicing sessions in Stokley's home basement. "There was a performing arts class that we were all in," says Lawrence of that fertile period. "A lot of singers around town would hire musicians and we ended up playing in gigs together as the backing band. It happened so often that eventually, we decided to just do it all ourselves."
After the band's line-up was finalized, it was a gig they played at the now-famous First Avenue club in 1989 that caught the attention of The Time's former members turned super-producers, Jimmy Jam and Terry Lewis, who had just launched their own label, Perspective Records (a subsidiary of A&M). To this day, the band credits the duo for encouraging, as well as respecting, their creative input and autonomy in the studio.
"We were lucky because we had Jimmy and Terry behind us in our careers," says O'Dell. "They came from a band and understood what we were trying to do. If we had signed up with another label, we wouldn't have lasted long enough to even make a hit."
The band's first single, "Are You Free," generated some buzz, but it wasn't until Washington D.C.'s WHUR-FM (Howard University's famed college radio station) broke the follow-up ballad, 1991's "Breakin' My Heart (Pretty Brown Eyes)" that the band experienced their first runaway smash. "Breakin'" peaked at number three on Billboard's R&B chart and number six in Pop's top ten, remaining on the charts for 34 weeks. After that, two other stellar albums—From the Mint Factory and Definition of a Band—and a chain of hit singles followed, including "Forever In Your Eyes", "U Send Me Swingin", "Someone to Love", "So Fine", "You Don't Have to Hurt No More" and "What Kind of Man Would I Be."
Even when the Perspective label folded and the band moved to Elektra, their fourth CD, Life's Aquarium, spawned the Billboard R&B top five hit, "If You Love Me". The band also ensured its longevity by building a reputation for energetic and engaging live performances.
And if the sudden implosion of record labels weren't enough of a change, another one loomed on the horizon; in 2001, two years after…Aquarium's release, Keri Lewis departed from the band to produce and tour with his future wife, Toni Braxton; according to his band mates, the split was an amicable one. "We talk on the phone at least once a month and we run into him every now and then. We're even talking about him joining us on stage for a few dates this summer," says O'Dell. And in the years that followed, the band, now departed from Elektra, decided to follow Prince's iconic example and start their own label; its first release under the Cagedbird Records imprint (distributed by Image Entertainment), 2005's Livin' the Luxury Brown, debuted at number one on Billboard's Independent Albums chart and gave the band yet another R&B hit, "I'm Ready."
The CD eLife, like the band itself, is irresistibly eclectic; it positions Mint Condition as a five-man oasis in R&B's parched landscape and reinforces their relevance amongst the old and the new school. "We can straddle the fence in both worlds," Stokley says. "You can't get the full experience on CD, nor can you get it all by just watching us perform live. Stay tuned to what we're doing, because our goal is to entertain and inspire. It's about forward movement."
© 2008, MELODY CHARLES